So tomorrow I turn 34! Yikes, that seems so old, but you're only as old as you feel right?!?
I'm not sure how 34 should feel but I don't feel any different than I did when I was in my 20's.
I'm not a huge birthday person for myself, for others yes I'll celebrate till the cows come home. But I hate being the center of attention. I had planned on spending my day getting up and getting my run on and then at the spa getting a massage and being pampered and then coming home and relaxing at home with my babies and honey. Well.....that all changed when my sister decided to take the night off to hang out with me on my special day.
My sassy sister and me circa 2009
I'm excited but seriously really liked the idea of kicking up my feet and watching a movie, but maybe it's the little push I needed to go out and do something.
So the plan is to meet up with the family and friends for dinner of steak...yummmy, and a huge much margarita!!!! Then where the night takes us who knows.....If my siblings are involved it will mean lots of drinking, dancing and staying out late...I'm tired already...LOL...Maybe I am getting old.
So here is my early birthday present from my hubs...
To be honest I think it's more for him than for me but I'll take it. I needed something besides an old school boom box to play my music. Ha!! It's the little things in life right...
I'll let you know how the night goes on Friday or follow me on
IG
and you'll see it first hand. Ha!
In other news.....
These two beauties are hosting a link-up.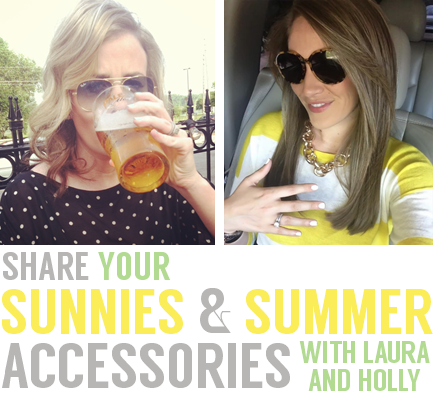 My summer go to's are......
Shades:
My shades for sure! I'm not to snobby when it comes to these because well I have 3 kids and they break everything. So the big black grandma shades are what I'm loving, or if I want to get fancy something like this...
Flip-Floppys:
I love love Roxy flip flops. I need a little height because it's how I roll.
Maxi-Dress:
Seriously who doesn't love a good maxi dress..Short or long they flatter any figure..
I love
Old Navy
. #1 it's cheap and #2 some of the dresses come in long which works awesomely for my long torso!
Ki Ki La Rue
is the bomb. Awesome customer service and cute clothes.
Old Navy
Kiki La Rue



Pedi-Cure:
This is a must if you're wearing flip-flops. Do it yourself or go pay some money, but get it done.
Try a fun new color, and show those toesies off.
Essie - Play Date

Confidence:
No matter what your go-to's are for summer the most important is having confidence and feeling great in you're own skin.
Now have a great weekend and raise your glass on Saturday while I drink my margarita!!