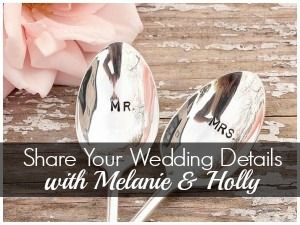 I'm linking up with my girl
Holly
and
Mel
!! If you don't already know them check them out.
They are both hilarious and I feel like I know them if that doesn't sound too stalkerish...
Share Your Wedding Details
Location (church/outdoors/destination):
Colors:
Bridal Party:
First Dance Song:
Honeymoon:
What would you do different?
It's wedding season and it's all about the details.
I got married a long long long time ago....September 27, 2002.
This was before there was a pintrest, and jump drives (warning the pictures maybe blurry...damn you scanner) and holy cow I could go crazy now.
I didn't really take a lot time to plan it. We were married 7 mths after we got engaged. We both didn't believe in long engagements and I didn't want a winter wedding. So off and planning I went. Now let me preface by saying my husband-to-be wanted to just go to Vegas and do the drive through wedding thing, and that would have been ok with me except I was the first one in my family to get married and my mom would have had a heart attack. We decided on having a Friday wedding because we were leaving for our honeymoon on Sunday and really I didn't feel like leaving my wedding early to drive to get our flight. Oh, and it was cheaper.
So here are the details.
I had originally planned on getting married outside at the gardens but they had huge stipulations on what you could have, naturally since they are responsible for keeping all the flowers alive.
There was that and the fact that it might rain, and that I would have to rent a ton of chairs. We both come from big families and we're talking about 400+ people that were invited. So money was a thing that needed to be stretched.
THE DRESS:
I didn't want a strapless dress because really lets me honest this girl needs some support. Ha!
So we went dress shopping the weekend after I was engaged. I wanted a simple satin plan jane number. That's me! Simple and elegant. I tried on this princess ball gown thing just for fun and guess what that's what I got.
LOCATION:
We decided that church would be the best place. No restrictions, no chair rental, no worried on rain, etc. The thing is the church was ugly and not at all part of my vision but I worked with what I had. We got marred at 4pm so it was late enough for those that worked and so we could go right to the reception after the ceremony. Nobody getting drunk too early. (this may or may not be a little hint of what's to come)
COLORS:
Since the original plan was outside wedding I wanted the bridesmaid dresses to reflect that. I had a vision in my head again of what I wanted them to look like and since my mom is an awesome seamstress or was she made them. Each girl got their own color to compliment them and the fit was perfect. Yes I did different colors before it was cool. Sage green for my red head, blue for my sister, and lilac for my bridesmaid #3. My littlest sister was the miniature bride and she wore white with flowers sewn on in the colors of the bridesmaid dresses
My flowers were simple. I'm a daisy girl. So easy peasy....daisies for the bridesmaids and groomsman and white roses for me and my groom.
Pictures were huge!! It's probably what I spent the most on besides the dinner and drinks. Jeez...WI people know how to drink. Anyways this was before you got a cd with all your pictures, hence the fuzzy pictures. The photographer did a great job but I only had him for the ceremony.
Again this is back in the stone-age and there weren't camera phones, digital cameras, etc. So I purchased disposable cameras and put them on the tables so people could take pictures throughout the night. Oh and did they...and surprisingly enough we didn't get any boobs, or weiner pictures...Which is a huge surprise since that's how S's family and my family roll. We're all pranksters.
Bridal Party (L-R - Meghan-friend, Steph-friend, Maleah-sister, me, Natalia-sister)
(L-R-Matt -he introduced me to S, Warren-friend, Luke-cousin, S-groom
bottom:Nate-my brother, Noah-my brother (both ushers)
S's sister and brother were readers....they are way older than he is, my aunt and uncle sang..
After pictures we were off to Stadium View for dinner and dancing. We ended up having 340 guests. Yes hello big families. It was ok though. We had so much fun and the dance floor was never empty at all!!!
First Dance:
Is it bad that I have no idea what our first dance song was? My hubs wanted some country song and I have no idea what it was. It's the only thing he really wanted. I can watch the video but that would take to long and really do you care. LOL...I do remember that the bouquet toss was "Jumpn' Jumpn'-by Destiny's Child, and garter toss was "Temptations" by Tupac.
It was getting close to the end of the night and I have not drank anything except the champagne at dinner, and my work people whom were all guys decided we needed to do some shots...I may or may have not taken 8 shots at the end of the night and puked my guts out. Followed by my underage sister puking in the next stall. So yes, I was the person that got drunk and my hubs still loves me!
The next morning we opened our million and one gifts and then drove to Chicago,IL to catch our flight bright and early for Nassau, Bahamas....
Would I change anything? Well I probably would have forgone the shots and maybe had the bridemaids order their dresses instead but not really. Everyone had fun and to this day family tells us it was one of the funniest weddings they have ever been to:)