Hey y'all!!! I'm linking up with
Miss Queen Bee Holly from Where We All Can Live Like Jack and Sally and
The King of Comedy Mr Jake (G-Unit) at The Life of Jake..
I love both of these blogs and they're on my daily to read list!!!
So without further ado and because I know you're waiting to know what I'm thinking here goes.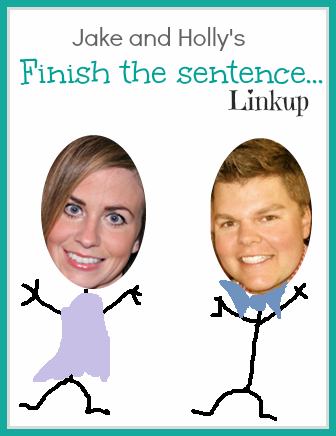 Unlike my sibling(s) (that I love very much)... I try try my hardest to be on time. It's hard with 3 kids but I try my hardest. My siblings that have no children are perpetually late.. Like 30 min...
My best friend(s) say... I'm hilarious....this may or may not be after we've drank a bottle or box of wine.
People call me... the baby whisperer...truth reason why I do what I do for a job. I can calm a crabby toddler and swaddle a fussing infant and multitask like no other...
The best part of my day...
is when I snuggle in bed and read kid-free for 20 min.
I really don't understand...
I get really annoyed... When my computer runs slow...I'm like a toddler with a cookie...I want it to work NOW!!
There's nothing like a... good long run. It's hard, it's rough, and I'm so happy when it's done, but my mind is clear and I can take on the rest of the world.
Lately, I can't get enough... MIO energy black cherry! That shit is the bomb.com!!
One thing I am NOT is... lazy...while I do have lazy days but I work hard for what I want and don't give up!
I spent too much money on... face wash, moisturizers, lotions, make-up. I want flawless skin but I'm blessed with sensitive, acne prone skin...GD got one thing in my life be easy.
I want to learn.... how to fit 10lbs in a 5 lb bag because that is my life in a nutshell. Too much to do and to little time.
If I ever met

J

ake

in real life , I would... give him a great big hug and then go out and party because he seems like he's a fun guy!!
I can't stop... peeing...seriously I drink so much water.
Never have I ever... been told I have small boobs. Seriously I think I was born with these things and although I love them, sometimes it would be nice to not have to wear a bra 24/7 (sorry for the guys that read this) or none that read this. LOL
Reese Witherspoon... is awesome!! Even she over drinks! Sometimes it's the quiet ones you have to worry about..."I'm and American citizen, do you even know who I am, you can't do this, it's going to be national news, you're going to arrest me." Ha ha. I die...love her and even good girls get caught.
That's all she wrote buttercup!!! If you want to join in the fun than copy and paste the link and have fun...life's to short to be all uptight!!! Peace out my crazies!!