I'm linking up with the fabulous Miss Holly from Where we can live like Jack and Sally.
If you don't read her blog she is hilarious. It seriously is the highlight of my day......wait what does that say about my life..ha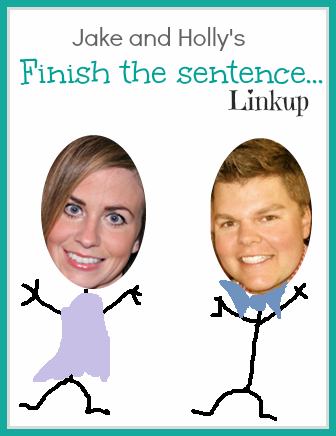 Just finish these sentences (or just the ones you want)....


1. People always tell me....
I'm funny, I wear my heart on my sleeve, I'm a party or maybe that's just what the people in my head tell me.
2. In the movie based on my life...
I would be played by a latino Kristin Wiig, and have an awesome soundtrack. It would be raw and epic and maybe Christian Grey would be my husband.
3. Typically, I end up regretting....
my honesty. I'm blunt and sometimes with not enough tact it can come across bitchy.
4. I always ask to leave off the....
olives..yucky yuck yuck, yuck
5. Kim and Kanye really...
I'd be happy if she was able to find someone that could love her for her and really who is really more obnixous than Kanye (don't get me wrong I love me some Kardashians, in fact I'm the sister that was left in WI)
6. My Parents always reminded me...
that life can through you curve balls and through their struggles I have become a compassionate, hard-working mom
ma.
7. Every single day I.....
wake up and feel blessed to live the life I do. (no joke)
8. This one time in College..
e(hhh sorry I didn't go to college although I did frequent the party scene enough that people thought I went there so I guess I would say) I got so drunk and the room was spinning that I thought the smashing pumpkins poster was talking to me.
9. My grossest habit is...
hmmmm....not sure
10. My latest white lie was...
I never lie (there you go)
11. I know all the words to...
every song I hear...so what if I make them up. It's my party.
12. When I grow up...
I want to be a motivational speaker, a nurse, an artist, a etsy seller, a areobics instructor, a stripper (wait how did that one get in there)
13. Sexy time is...
a kidless date night of dinner and a movie followed by......my husband falling asleep.
14. I will never, ever...
say never, ever...you never know the future.
15. I think it's hilarious...
when someones laugh is funnier than the joke they told